Image via Roblox Flag Race
I love to represent my country's fellow gamers when I'm gaming, which is a big draw in Roblox Flag Race. It's great to see the other Brits on the leaderboard as I click away, trying to build up speed. The more you click, the more wins you'll receive, which you can then spend on cool pets (Magic Marshmallow is my favorite so far) to improve your speed even more! Then use Rebirths to open whole new areas to race in, which means even more pets.
Roblox Flag Race codes give you free pets, which is a great way to get ahead at the start of the game. Other codes may give you free Wins or boost potions that can increase anything from the amount of Wins you're awarded to the luck percentage you have when trying to get rare pets. If you love race clicker games, you should also take a look at Muscle Race Clicker Codes.
All Roblox Flag Race Codes List
Roblox Flag Race Codes (Working)
These are all the working Roblox Flag Race codes.
BIGUPDATE—Redeem for Happy Red Dragon Pet
Roblox Flag Race Codes (Expired)
These are expired codes for Roblox Flag Race.
There are no expired codes for Roblox Flag Race
Related: Skydive Race Clicker Codes
How to redeem codes in Roblox Flag Race
Follow the instructions below to redeem codes in Roblox Flag Race.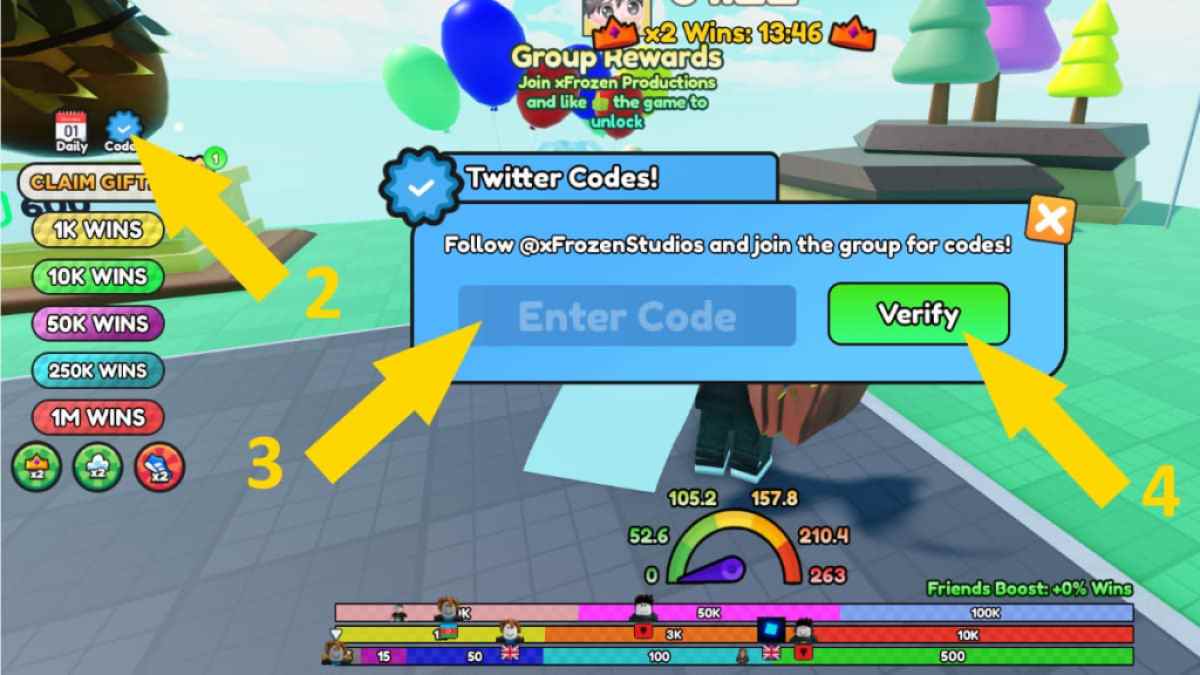 Launch Roblox Flag Race on Roblox.
Press the blue Codes button on the left of the screen.
In the text box saying Enter Code, do so as it appears above.
Press the green Verify button to claim your reward!
How can you get more Roblox Flag Race codes?
If you want to race around the interwebs looking for new Roblox Flag Race codes, a good starting point is the xFrozen Productions Roblox Group. Outside of Roblox, you can follow @xFrozenStudios on Twitter and subscribe to the i2Perfect YouTube Channel for secret codes.
Why are my Roblox Flag Race codes not working?
Have you tried to enter one of our Roblox Flag Race codes and hit a snag? If a code is saying invalid, it might be due to a typo. We suggest you cut and paste any codes directly from here, when possible, as even mistyping a capital letter can invalidate a code. If, instead, a code is coming up as expired, it is usually because the developer has withdrawn it. We can't fix that, unfortunately, so let us know in the comments, and we'll upgrade the guide. Then come back soon, as we'll be racing around for new codes right now.
Other ways to get free rewards in Roblox Flag Race
There are a few ways to get more free rewards in Roblox Flag Race. The easiest way is to stay logged in for two hours. Just below the Codes button is a Claim Gift one. Every few minutes for the first two hours you're logged in each day, you'll get another freebie! These start as small currency rewards, but you'll also get free potions and pets.
You'll also find a Daily button next to the Codes one. This works in a similar way, but you get one free reward every day you log in for 10 days. Again, these can be anything from currency to potions and pets. I also joined the xFrozen Roblox Group (linked above) and liked the Game on its Roblox page. If you do, you unlock the Group Rewards present in the lobby area. This will give you even more free items every day!
What is Roblox Flag Race?
Roblox Flag Race is a traditional Roblox clicker-style game. Build up your speed by clicking in the lobby area for 20 seconds before the race begins, then get as far as you can in two minutes to earn Wins. Use your Wins to buy pets until you're really racking up big Wins, then spend them to Rebirth instead for permanent bonuses to your speed, acceleration, and win bonuses.
If you're looking for codes for other games, we have a ton of them in our Roblox Game Codes post! You can also get a bunch of free stuff via our Roblox Promo Codes page. And in the meantime, take a look at the latest news to stay up-to-date on all things entertainment.