Image via Vortex Simulators
Pickaxe Simulator is a Roblox game that lets you enjoy digging up gold and other valuable ores. To make this job more enjoyable, you can also collect pets to accompany you in your mining escapades. You'll need coins and diamonds to get those lovely creatures and more efficient tools for excavating. This can sometimes be challenging, but don't worry, we have the Pickaxe Simulator codes you need!
Use Roblox Pickaxe Simulator codes to make your mining job easier. This way, you'll get a good headstart for adventures that await you below. Use these resources to buy a better pickaxe so you can mine even more resources. Codes will also help you with buying eggs to hatch pets. Make sure to use these bonuses regularly to keep up with the remaining miners.
If you like to collect shiny things, check out Roblox games like Anime Adventures Codes, Last Pirates Codes, A One Piece Game Codes, and Juice Pirates Codes. If you need more codes and guides for Roblox games, feel free to search this site for more valuable tips & tricks.
All Pickaxe Simulator Codes List
Updated June 1, 2023
Checked for new codes!
Pickaxe Simulator Codes (Working)
Here's a look at all the working Pickaxe Simulator codes.
UPDATE2—Redeem for 1k Gems and 2k Gold
5KLIKES—Redeem for 1k Gems and 2k Gold
Pickaxe Simulator Codes (Expired)
These codes for Pickaxe Simulator no longer work.
UPDATE1—Redeem for 2000 Gold and 1000 Diamonds.
Roblox Pickaxe Simulator FAQ
HerHere'serything you need to know regarding Pickaxe Simulator codes.
How to Redeem Pickaxe Simulator Codes
Redeeming your rewards in Pickaxe Simulator is easy.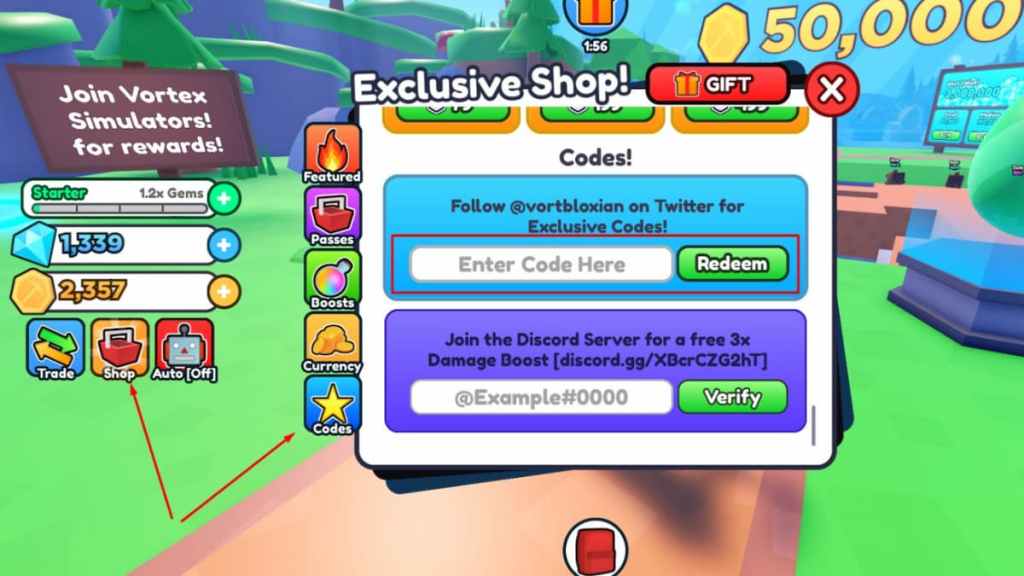 In the game, press the Shop button on the left side of the screen.
Press the Codes button in the menu.
In the text box, enter the code exactly as it appears in the list above.
Press the Redeem button to claim your goodies.
How to get more Pickaxe Simulator Codes
To get more Pickaxe Simulator codes, check this page regularly, as we'll update it as soon as new rewards appear. You can also look at the official Twitter and Discord pages for all code information. For more Pickaxe Siyou'rer free rewards, join the developers' Roblox group.
Why aren't my Pickaxe Simulator Codes working?
Most Roblox codes don't last forever, so try to redeem them as soon as they are available. This way, you'll never miss rewards. If you find some codes that don't work, let us know so we can remove them. To ensure the code is correct, enter it without grammar mistakes. The best way to do that is to copy and paste code from the list above into the redeem text box.
How to dig faster in Pickaxe Simulator
You'll need a better axe and pets that give you bonuses to pick faster. To get them, use Pickaxe Simulator codes to speed up your progress and then focus on excavating the most precious stones like gold ore, ruby ore, silver ore, etc. You can also trade with other players for more efficient equipment and better pets.
What is Pickaxe Simulator?
Roblox Pickaxe Simulator is a game where you explore different zones in search of the best excavation sites. Each mine is comprised of cubes with ores of different values. As you dig, you'll get deeper into the mine. Luckily, you can teleport to the surface! Your goal is to collect valuable ore to improve your gear and collect pets. You can enchant your equipment and pets and trade with fellow diggers to be more efficient.
If you're looking for codes for other games, we have many of them in our Roblox Game Codes post! You can also get a bunch of free stuff via our Roblox Promo Codes page.