Screenshot by Steam Game Guides
Despite my best intentions, I've accumulated a bounty in Starfield once or twice. It's not my fault most of the time, like when a Freestar Collective ship flew in my crosshairs while battling some Crimson Fleet pirates. Regardless, a price was put on my head, and I needed to find a bounty kiosk to pay it off or wind up in jail or dead. Let's look at where to find these bounty kiosks in Starfield.
Where to Find All Bounty Kiosks in Starfield
| | | | |
| --- | --- | --- | --- |
| Bounty Kiosk Location | How to Find | Planet | Star System |
| New Atlantis – The Viewport | The Viewport bar is just past the space port. Head down the ramp and enter it on your left. The kiosk is located in the back of the bar. | Jemison | Alpha Centauri |
| Cydonia – The Broken Spear | The Broken Spear bar can be found in Cydonia's central hub as soon as you walk in. | Mars | Sol |
| Akila City – The Hitching Post | Locate the Hitching Post near GalBank. The kiosk will be on the right in front of the bar. | Akila | Cheyenne |
| Neon – Astral Lounge | Head toward the center of Neon. You can find the Astral Lounge there, and the kiosk will be to your right upon entering. | Volii Alpha | Volii |
| Hopetown – Pit Stop | Found the Pit Stop bar in Hopetown. Once you enter, the kiosk will be on your left. | Polvo | Valo |
| Trident Luxury Lines Space Station | Can be found close to where you exit your ship after docking and exiting your spaceship. | Orbiting Akila | Cheyenne |
| Outpost – Buildable | You can build a bounty kiosk on any Outpost. You need four Aluminum, two Beryllium, and a two Zero Wire. | N/A | N/A |
Related: All Starfield Vendor Locations and Inventories
How to Remove Your Bounty in Starfield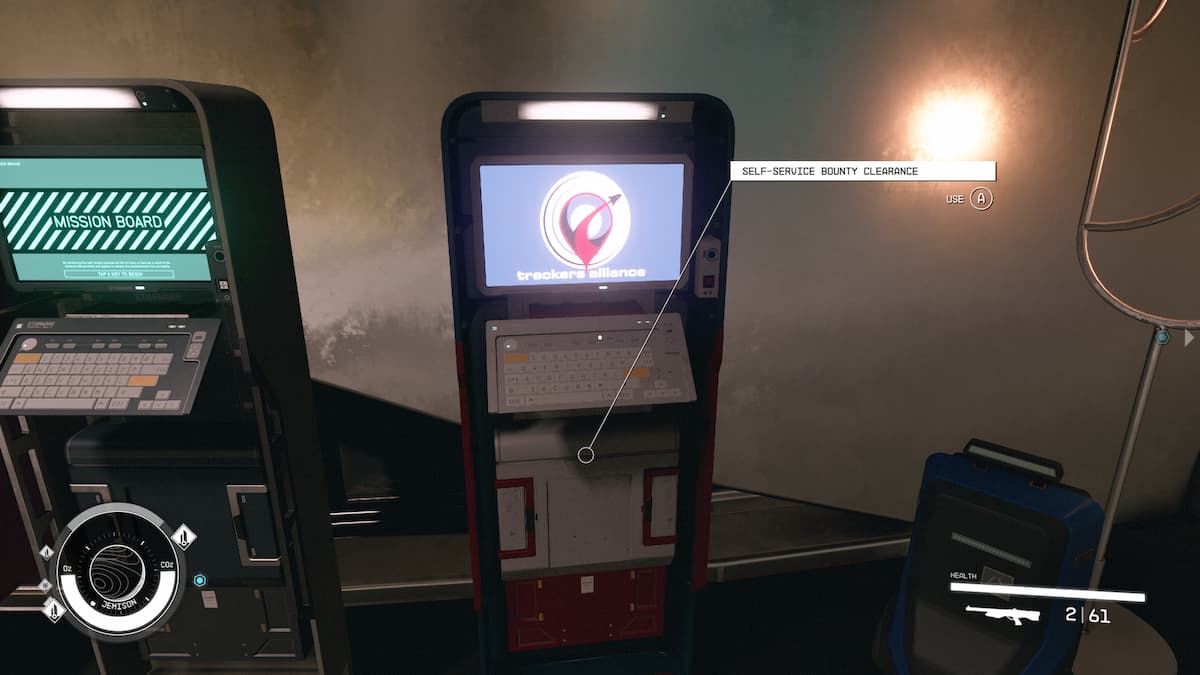 Removing your bounty is simple in Starfield, but whether you are wanted with the United Colonies or Freestar Collective makes a difference. You need to go to a planet not controlled by the faction you are wanted with. Once there, locate a bounty kiosk and interact with it. You'll then be able to pay off your bounty and return to a life of freedom.
For more information on Starfield, check out How to Build Ships in Starfield – Tips and Tricks and Best Places For Outposts in Starfield on Steam Game Guides.