Image via Anime Legend Studios
In the age of multiversal mashups, Anime Mania is one of the unique anime experiences on Roblox that we have played. Inspired by All Star Tower Defense, Anime Mania shifts away from the top-down tower defense genre toward a third-person beat 'em up. Our favorite anime characters from Naruto, One Piece, and Dragon Ball are all still here.
Chances are you're here for more Gems and Gold, aka the essential currency needed to spend on rolls for a chance at summoning your favorite characters. Like most gacha games, acquiring building your favorite team takes luck, so you'll need all the Gems and Gold you can get. That's where our Roblox Anime Mania codes list comes in.
Why not brush up your skills with guides like our Roblox Anime Mania Tier List, Roblox Anime Mania: Best Way to get Gems & Gold in Anime Mania, and All characters in Roblox Anime Mania. If you want to branch out into more anime-inspired Roblox games, we've got code lists for My Hero Mania and Anime Rift.
All Anime Mania Codes List
Updated May 11, 2023

There was recently an update but we are still waiting for some codes.
Anime Mania Codes (Working)
Here's a look at all the working Roblox Anime Mania codes.
There are currently no working codes.
Anime Mania Codes (Expired)
These Roblox Anime Mania codes no longer work.
YAKRUSFINALGOODBYE—Redeem code for free Gems and Gold
REVIVAL??—Redeem code for free Gems and Gold
IFOLLOWEDYOU
BIGMOMUPDATE
BIGMOMUPDATE1
THANKSFOR150K
ManiaIsBack
atlastZerO 
MHARelease?
Miracle
Dessi
Aricku
SPGBlackStars
HUNTER X HUNTER UPDATE
EtherealMiracool
OffClan
etherealmiraclE
100K!
HWYT
maruto2? 
OFFSM00K
OffMeno
StarCodeBenni
ibeMaine
100MILVISITS
JOJOUPDATE 
SORRYABOUTTHAT
animeMANIAHYPE 
1PIECE 
IFOLLOWYOU!
FOLLOWERSONLY
bugsFIX
REAPERUPDATE!!
REAPER?
TWITTEREYES
STRESSTEST
FIXITROBLOX
Anime Mania FAQ
Here's all of the information we have about Anime Mania and Anime Mania codes!
How to redeem Anime Mania codes
Redeeming Anime Mania codes for free reward is easy.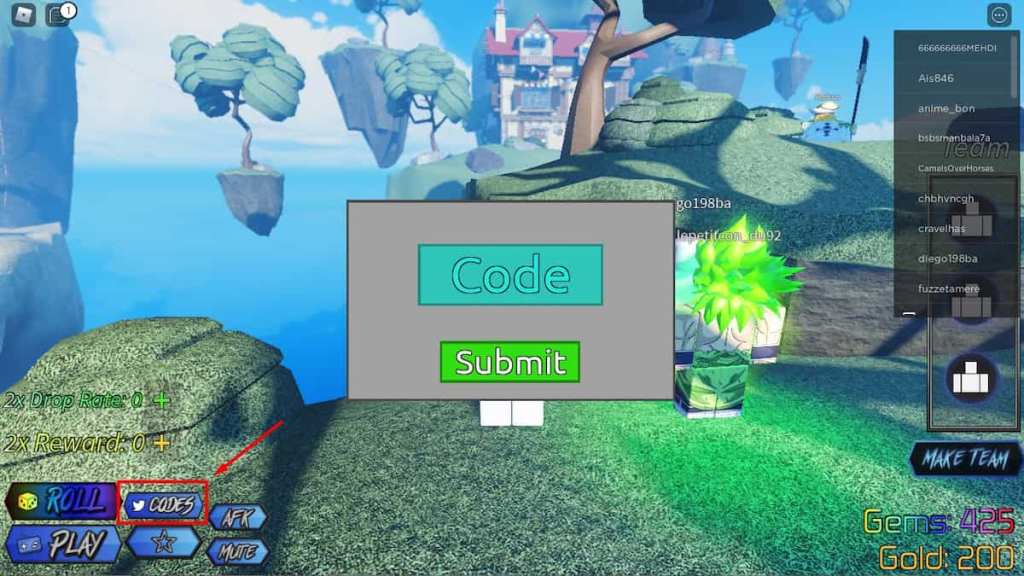 Launch Anime Mania on Roblox
In the game, press the Codes button in the lower-left corner of the screen
In the text box, enter the code exactly as it appears in the list above.
Press Submit button to receive your reward.
How to get more Roblox Anime Mania Codes?
If you're looking for more Anime Mania codes, the best place to look is developer Mxstified's Twitter account since they are now in charge of game development. The next best place is to join the Anime Mania Discord server.
It is a dedicated community where you can receive regular code announcements. Of course, we suggest bookmarking this page for new Gold and Gem Anime Mania codes since we update our list as soon as we discover new codes!
Why aren't my Anime Mania codes working?
Usually, older codes expire when a new update rolls out. You should redeem these as soon as possible because you'll never know when they could expire. If you find one that is expired, please let us know the exact code in the comments below so we can remove it.
Please keep in mind that codes are case-sensitive, meaning you must copy and paste each code precisely as it's written on our list. Even a slight press of the space bar, or an improper capital letter, can result in the code not working.
What is Anime Mania?
Anime Mania is a unique Roblox experience that combines the best anime characters into one game. However, what makes this game different are the beat 'em up genre mechanics. In this third-person action game, you must build a team of powerful anime characters and use combos to defeat enemies.
Roblox Anime Mania uses a gacha system to unlock new characters, so save your hard-earned Gold and Gems for the Dragon Ball, My Hero Academia, One Piece, and more that they most wish to add to their roster!
Looking for a new Roblox game to try? Take our quiz on What Roblox game you should play! If you're looking for codes for other games, we have a lot of them in our Roblox Game Codes post! You can also get a bunch of free stuff via our Roblox Promo Codes page.