Image via Roblox Anime Journey
Welcome to the world of heroes from popular anime titles such as Naruto, Demon Slayer, and One Piece! Here our skills were put to the test from the very beginning. So get ready to unleash your character's full potential and beat up a bunch of enemies on your path to glory. And the best way to get started quickly is to use Anime Journey Codes. Since this Roblox game is still in the beta phase, you'll have to be prepared for a few bumps in the road. 
When you redeem the codes, you'll get free spins and some Roblox gear. There will be many more rewards as time goes on, so bookmark this guide for all the new Anime Journey content. Enter the codes below exactly as they're written or the code may not work. If a code from our working codes section has expired, please let us know so we can remove it!
For more information on other Roblox games codes, check out Anime Punching Simulator codes, Anime Fighting Simulator codes, Anime Brawl: All Out codes, Anime Worlds Simulator Codes, and many more to come!
All Anime Journey Codes List
Updated May 11, 2023

A journey through our favorite animes to find new codes. None have been released today.
Anime Journey Codes (Working)
Here's a look at all the working Anime Journey codes.
OGVEXX—Redeem for 20 Minute Boost
LEADERBOARDS—Redeem for 200 Gems and 10 Spins
60K_FAVS—Redeem for 30 minutes of 2x XP and a Stat Reset
40K_LIKES—Redeem for 250 Gems and 15 Spins
35K_LIKES—Redeem for 5 Spins and 100 Gems
BOKUNOHERO—Redeem for 10 Spins and 100 Gems
MYHEROACADEMIA—Redeem for 20k Coins and an XP Boost
LITTLE_UPDATE3—Redeem for 20k Coins and 10 Minutes of XP Boost
THANKS—Redeem for 50 Spins, 200 Gems, 20k Coins, and 1 hour of XP Boost
LELYGAMER—Redeem for 10 Spins
KELVINGTS—Redeem for 20 spins and a clothing item
Anime Journey Codes (Expired)
These Anime Journey codes no longer work.
EXP_BOOST—Redeem for an XP Boost
LITTLE_UPDATE—Redeem for 2.5k Coins, 50 Gems, 10 Spins, and a 10-minute XP Boost
RELEASE—Redeem for 15 Spins
GEMS—Redeem for 100 Gems
SPINFOREVERYONE—Redeem for 10 Spins
25KLIKES—Redeem for a Stat Reset, 15 minutes of 2x XP, and 15 Spins
2MVISITS—Redeem for a Stat Reset and 5 Spins
40KFAVS—Redeem for 30 minutes of 2x XP and 10 Spins
25KDISC—Redeem for 10 minutes of 2x XP and 15 Spins
Frango—Redeem for 10 minutes of 2x XP and 5 Spins
REBALANCE—Redeem for 20 minutes of 2x XP and 15 Spins
NEWUPDATE—Redeem for 20 minutes of 2x XP and 15 Spins
Central_Nerd—Redeem for 10 Spins
TigreTV—Redeem code for 20 spins
AtlasZero—Redeem for 10 spins
lelygamer—Redeem code for 5 spins
2kplayers—Redeem code for 10 spins
5KLIKES—Redeem code for 10 spins
LucasBestDev—Redeem for 10 spins
lely_sc—Redeem for 5 spins
7.5KLIKES—Redeem code for 10 spins
10KLIKES—Redeem code for 10 spins
15KDISC—Redeem code for 10 spins
SorryForShuts—Redeem code for 3 Spins
BLACKCLOVER—Redeem code for 5 spins
How to Redeem Anime Journey Codes
Redeeming codes for free rewards in Anime Journey is simple. Start the game and select Play from the menu. From there, your journey and redeeming codes will begin.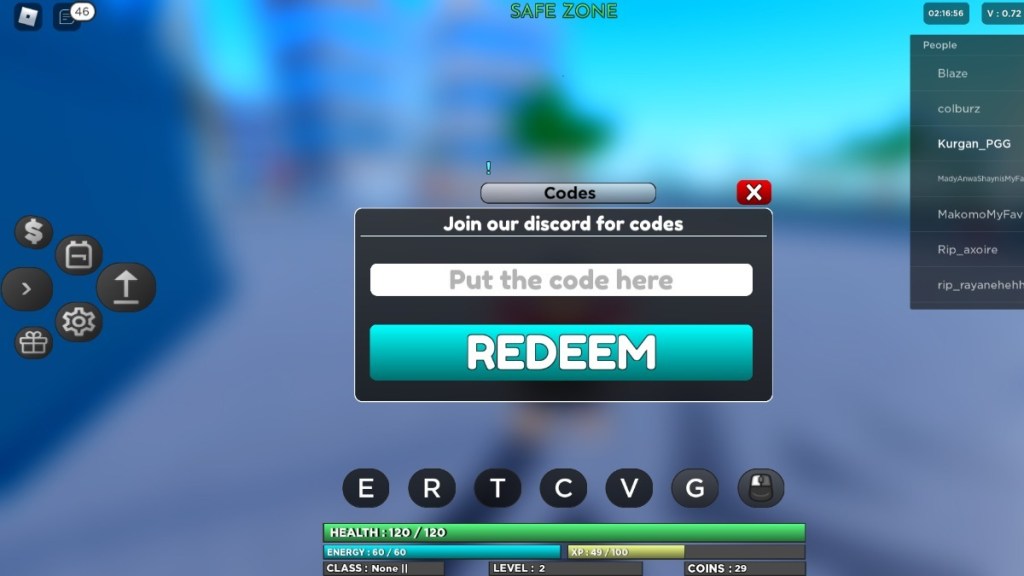 In the game, press the arrow button on the left side of the screen to open the Menu.
Press the Gift icon (the bottom button) when the menu opens.
In the 'Enter Code' field, enter the code exactly as it appears in the list above.
Press the Redeem button to claim your reward.
How can you get more Anime Journey codes?
The first place you should look for new Anime Journey codes is obviously this page. You should check it regularly as we'll update it whenever new codes arrive. You can also visit the official Twitter account CL Game Studio official Twitter account @Paida_sc or join the Anime Journey Roblox group. The official Anime Journey Discord channel is another great place to check out.
Why aren't my Anime Journey codes working?
Remember that Anime Journey is still under development, so bugs are to be expected. Keep in mind that some codes require you to reach a certain level. Also, some codes have expiration dates, so check this page often to claim rewards on time. 
Of course, this is only true if you enter the code correctly (codes are case-sensitive). To avoid typos, just copy and paste the code. If you still have a problem with the redeeming process, let us know in the comments below and we'll find a solution.
What is Anime Journey?
Anime Journey is a new member of the Roblox game family of games, and as you can imagine, it's essential for any anime fan. In this game, you'll fight in a variety of PvE and PvP battles with the goal of becoming the ultimate anime hero. And since it's a journey, you'll have to complete some quests along the way. If you're interested in it, now is a good time to jump in, since it's still in open beta.
If you're looking for codes for other games, we have a ton of them in our Roblox Game Codes post! You can also get a bunch of free stuff via our Roblox Promo Codes page.