Image via Respawn Entertainment
Like many players, I like to see how I am performing in Apex Legends games. While Apex Legends gives fairly detailed stats from game to game and can show stats like K/D or damage done, players may want more stats at their disposal. Seeing detailed stats like top weapons, damage distribution, and Legend data can be very helpful in improving your gameplay and evaluating your performance. Here is how you can use an Apex Legends stat tracker and check your stats in real-time.
To check your Apex Legends stats, you can go to apex.tracker.gg to check your individual stats, check global leaderboards, and check Legend usage. If you want to check your individual stats, you can enter your Origin, Steam, Xbox Live, or PlayStation username and check your stats. The stat tracker can display your peak rating, a lifetime overview, and recent matches. If you would like to update your stats, check the left side of the page, and select Force Update. The stat tracker may not have all game data available, so it works best to download the app to track your real-time data.
Related: Apex Legends Codes
How to download the Apex Legends Stat Tracker App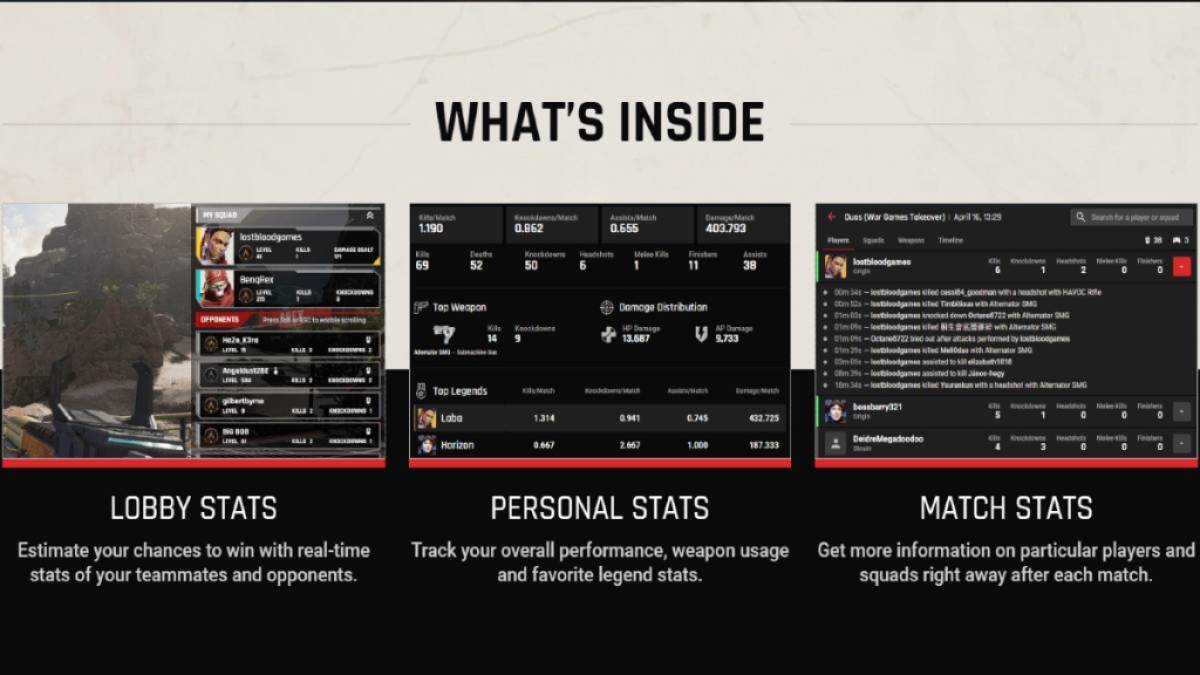 To download the Apex Legends Stat Tracker App, select the red "Get the Apps" button on the top of the page, then select either the mobile app, the desktop app, or the live tracker app. The desktop app can track your stats while you play and is accessible on your computer. If you play on a console, you may want to download the mobile app and enter your username to start tracking your stats.
If you download the desktop app, it will automatically launch when you play the game and display detailed stats for you to view including detailed match stats and live lobby stats on your opponents. The app will also keep track of your Legend usage and how you perform with each different Legend.
For more on Apex Legends, check out What is the Apex Legends Map Rotation? (Season 17) here on Pro Game Guides.