Image via Roblox Factory Simulator
An experience that challenges players to build their own industrial empire from the ground up, Factory Simulator offers various forms of machinery, tools, and gear to help players complete numerous real-life tasks and jobs in a virtual environment. Mine, chop, grind, refine, and sell your way to the top! So how do you get a head start on building your empire? With codes of course!
If you ever find yourself short on in-game Cash, don't panic! We've got you covered! Check out the codes below and redeem them for a variety of freebies including crates and Cash! If you find a code in the Working Codes section that seems expired, please let us know so we can remove it as soon as possible. Keep in mind, also, that you'll need to enter each code exactly as it's written or the experience won't accept it!
If you're looking for more Roblox content to browse while you wait for new codes, check out some of our other related articles including Where is the Teddy Bear in Roblox Bitcoin Miner, How to get Red Bronze Ingots in Roblox Islands, or our Roblox Dogecoin Mining Tycoon code list!
All Factory Simulator Codes List
Updated June 1, 2023

Checked for new codes!
Factory Simulator Codes (Working)
Here's a look at all the working Factory Simulator codes.
wintersurprise130k—Redeem for a 2x Cash Boost (New)
payday—Redeem for double cash boost
warpspeed—Redeem for double walkspeed boost
tevinisawesomeagain!!—Redeem for cash
newyearnewcodes!!—Redeem for cash
Stanscode – Redeem for 2x Advanced Crate
TheCarbonMeister – Redeem for 2 Advanced Crates
Factory Simulator Codes (Expired)
These Factory Simulator codes no longer work.
TYSMFOR100KLIKES!! – Redeem for 2x Advanced Crates
happyholidays — Redeem for cash
tevinisawesomept2!—Redeem for 1 Advanced Crate
randomcodehehpt2—Redeem for $3.87k cash
tevinsalwayswatchingyes!!—Redeem for $3.00k cash
discordspecial—Redeem for $5.64k cash
SURPRISECODEHI!—Redeem for $3.00k cash
greetingsmychildren – Redeem for 3K Cash
October – Redeem for 3.87k Cash
TwitterCode2021! – Redeem for Advanced Crate
THANKYOUFORPLAYING! – Redeem for 3K Cash
Sub2Cikesha – Redeem for 3K Cash
Firesam – Redeem for 3K Cash
Kingkade – Redeem for 3K Cash
Goatguy – Redeem for 3K Cash
FSTHANKYOU!! – Redeem for 3K Cash
TEAMGGS!! – Redeem for 3K Cash
How to Redeem Factory Simulator Codes
How to enter codes in Factory Simulator
It's easy to redeem codes for free rewards in Factory Simulator! To do so, simply follow the steps below.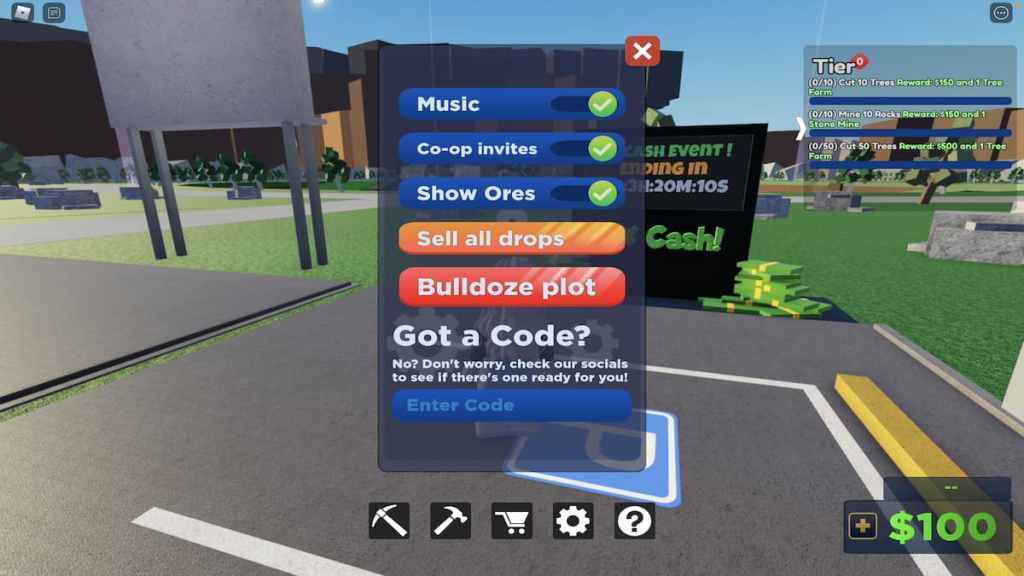 To start, launch the experience
Once inside, locate and select the Settings button (cog icon) at the bottom of the screen
At the bottom of the Settings menu should be a blue text box where you can enter codes
After copy and pasting or typing in a code, press the Enter key to redeem your prize!
How do I get more Factory Simulator codes?
Though there's no set schedule as to when Factory Simulator updates are released, there are ways to keep track of them! The best ways to stay up-to-date on codes are checking back with this article, following Gaming Glove Studios, the development team behind Factory Simulator, on Twitter, joining the Factory Simulator Discord server, and joining the Gaming Glove Studios Roblox group.
Why aren't my codes working?
Not all Roblox codes are active for the same amount of time, meaning some expire exceptionally quickly and may even become inactive after 24 hours or less! If you attempt to enter a code and it says Code Expired, that code is no longer active and, unfortunately, can no longer be redeemed. There's nothing that you can do to fix this issue, the code is simply unobtainable. If you attempt to type in a code and it says Invalid Code, however, this means that you've likely mistyped the code or neglected to use the correct capitalization. If this happens, try to retype and re-enter the code once more, being sure to copy it exactly as it's written!
What is Factory Simulator?
Factory Simulator, similar to many other Roblox simulator experiences, allows players to engulf themselves in a new world and experience new adventures, some that they may have never experienced before. In the case of Factory Simulator in particular, players can work as a, you guessed, factory employee/owner and run their multi-purpose industry however they'd like. Experiment with various designs, machines, materials, and more inside of Factory Simulator!
If you're looking for codes for other games, we have a ton of them in our Roblox Game Codes post! You can also get a bunch of free stuff via our Roblox Promo Codes page.