Image via Roblox Super NFL Tycoon
The second installment of the popular NFL Tycoon has arrived—meet Super NFL Tycoon! This experience, similar to its predecessor, allows players to build their own stadium, manage their dream team, and grow their franchise dynasty. To many players' delight, this experience also offers a handful of NFL-themed avatar items that can be claimed for free by completing a few short steps. Continue reading below for a closer look at these items and a rundown on how to unlock them.
How to earn all free items in Super NFL Tycoon
The list below details all of the free items that have ever been available inside Super NFL Tycoon. For more specific info on each item, continue reading past this list.
Football Suit (No longer obtainable)

Purchase all three of the Pay Player with QuickBooks Payroll buttons

Super Bowl LVII Helmet (No longer obtainable)

Complete the Inuit Stadium

Football Aura (No longer obtainable)

Play Super NFL Tycoon for three days in a row

Football Guitar (Currently obtainable)

Complete the two Intuit TurboTax quests

NFL Draft Cap (Currently obtainable)
Football Suit
In classic tycoon fashion, the Football Suit is earned after expanding your stadium a designated amount. Upon spawning into Super NFL Tycoon, you should notice a green circle on the ground that says Start your Tycoon!—stepping onto this circle will place the first piece of your stadium.
As more circles appear, continue stepping on them to expand your stadium. If you run out of money and need more to purchase new circles, simply locate the ATM pictured below, walk up to it, and press E. Doing so will automatically collect all of the money that your stadium has passively earned while you were building.
Continue expanding your stadium by stepping on all of the new circles that appear around it—eventually, you should see a circle labeled Pay Player with QuickBooks Payroll.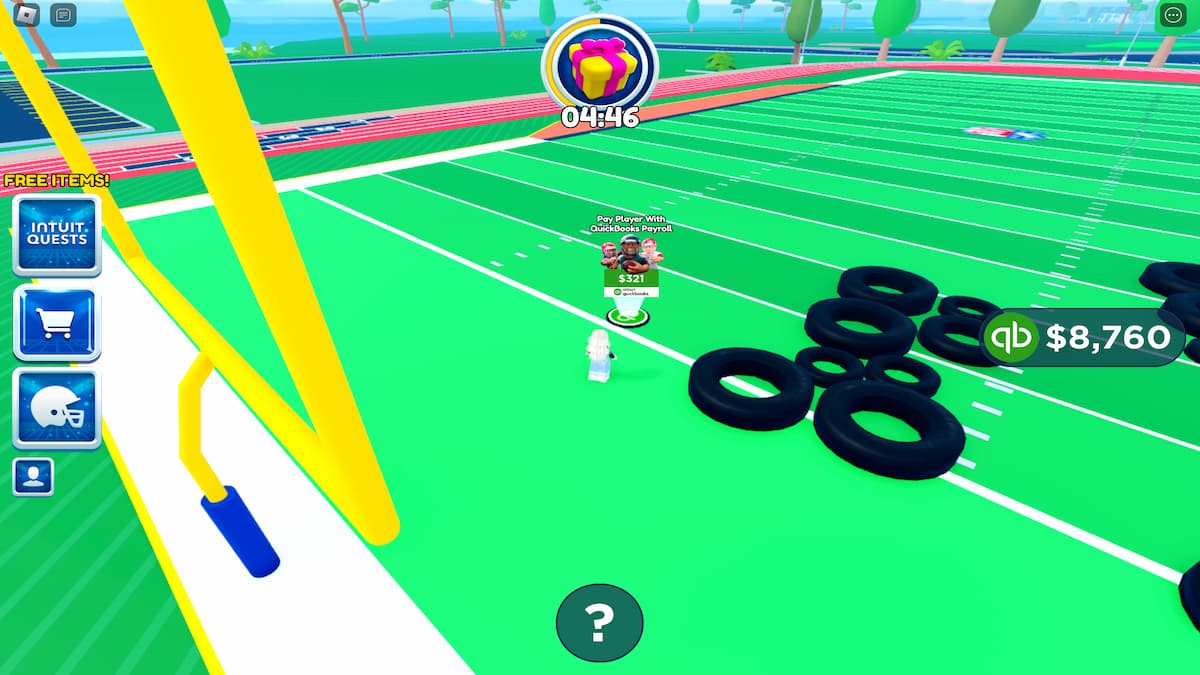 After purchasing this circle, more will appear in the area. As soon as you purchase two more of the QuickBooks circles, you will unlock the Football Suit item and corresponding badge. That's all there is to it!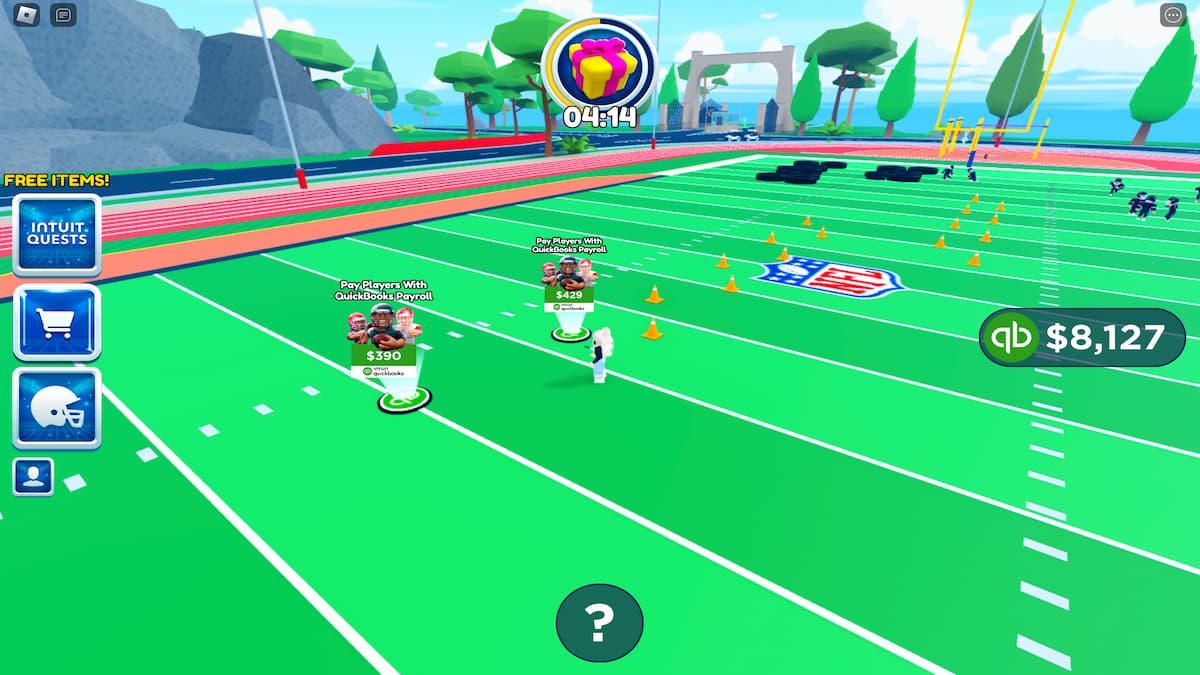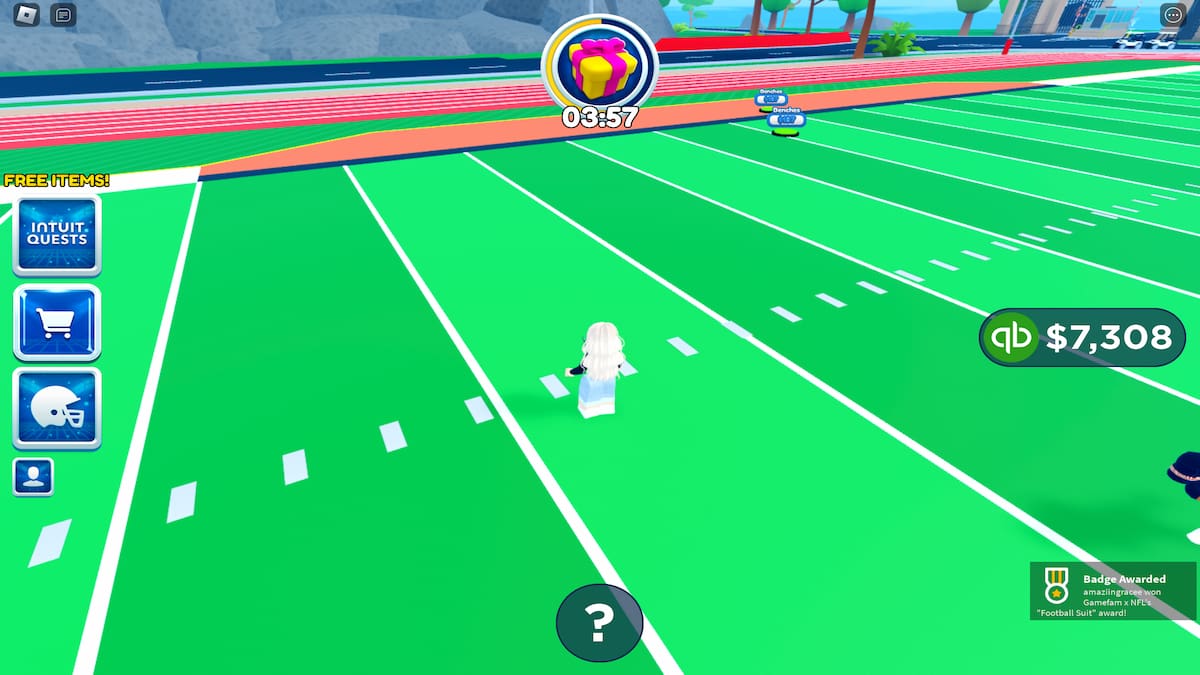 Super Bowl LVII Helmet
The Super Bowl LVII Helmet is unlocked after fully completing the Intuit Stadium. To do this, continue saving up money, purchasing new circles as they appear, and progressing through the numerous rooms within the stadium. Assuming you're making forward progress, the stadium will be built in the following order:
Field
Stadium entrance
Press Room
Kitchen
Trophy Room
Conference Room
Pool
Locker Room
As soon as you purchase the final circle, and complete the final room in the stadium in turn, you will automatically unlock the Super Bowl LVII Helmet badge and item.
Football Aura
The Football Aura is likely the easiest item to obtain in this experience, as all you need to do to unlock it is play Super NFL Tycoon once a day for three days. Upon logging in on the third day, you will unlock the item and its badge.
Football Guitar
When your first hot dog stand circle appears, step on it to unlock it. Upon doing so, another circle should appear that says Hire Food Vendor With Intuit Quickbooks To Double Revenue—stepping on one of these circles will add to your Intuit TurboTax quest completion progress. To complete the quest fully, we need to continue expanding our tycoon and find this button two more times. One of the buttons can be found in the Intuit Stadium's entrance, and the other in its Concessions area.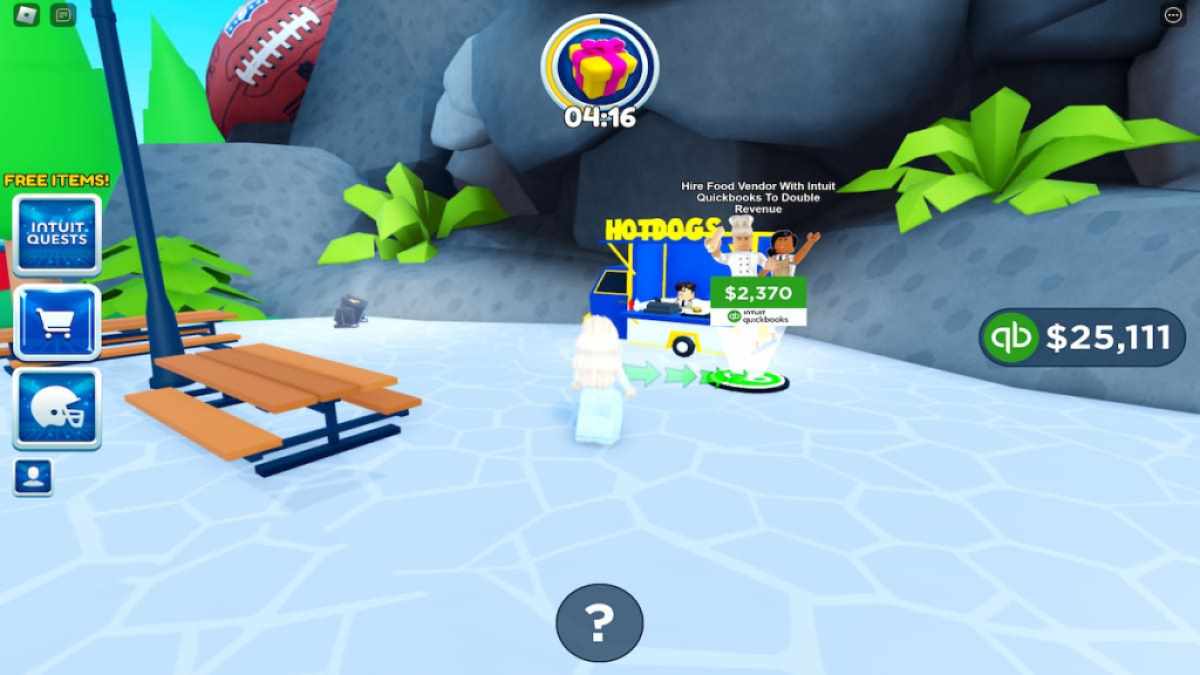 After pressing the third button, you'll complete the first part of the Intuit TurboTax quest. To complete the second part, keep an eye on the gift icon at the top of your screen. Every eight minutes, this gift will award you an in-game tax return from TurboTax. After earning five tax returns, which equates to staying in the experience for 40 minutes, you'll finish the second part of the quest and unlock the Football Guitar item.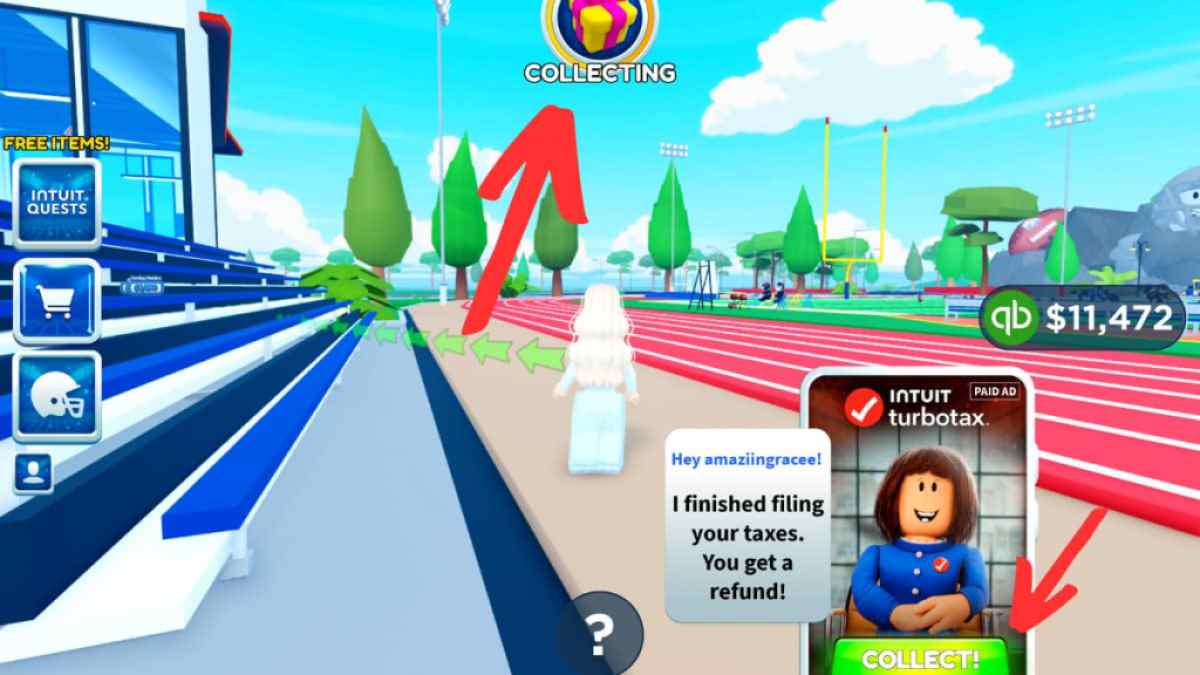 NFL Draft Cap
To earn the NFL Draft Cap item, players must complete the following limited-time Intuit TurboTax quest: Complete the Draft Stage. When you find the Draft Grounds button, step on it to begin building your NFL Draft-themed area.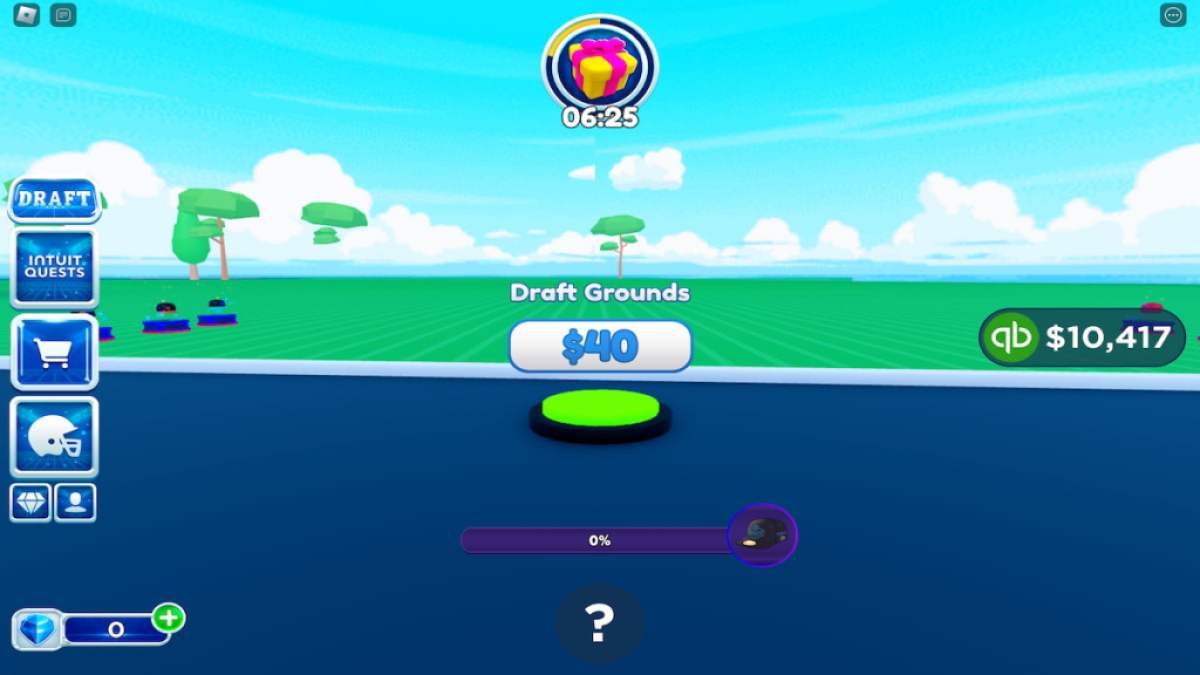 Then, simply continue expanding this area by purchasing buttons, claiming money, and repeating this process. After a while, you should see the Draft Stage button.
Purchase this button, and all the buttons that appear around it, until you receive the corresponding NFL Draft Cap Badge. That's all there is to it, you've earned the item!
End
That's it for our guide on how to obtain all free items in Super NFL Tycoon! Are you going to be tuning into the Super Bowl? If so, let us know what team you're rooting for in the comments below!
Looking for more Roblox content, including free items? Check out our recent guides on How to get all free items in Rhythm City (Saweetie Super Bowl Event) – Roblox or How to get all free items in Loooptopia – Roblox here on Pro Game Guides!