Screenshot by Pro Game Guides
Honkai: Star Rail's enemies are extremely formidable, which can make early gameplay a massive challenge. Toward the end of Jarilo-VI's story, you'll eventually be able to farm Relics, upgradeable equipment sets that can give your characters a massive power boost.
Honkai Star Rail Relics – how to unlock
You'll automatically unlock Relics after completing the following prerequisites:
Reach Trailblaze Level 14
Do the Trailblaze Mission called "Ones Fallen Into the Abyss"
In the Trailblaze Mission above, you'll be asked to speak with Natasha in the Great Mine. Doing so will unlock the Relics section in the character menu. However, you won't be able to farm them until later on.
Related: Where to find and purchase items in the Hertareum World Shop
Honkai Star Rail Relics – how to farm
To farm Relics in Honkai Star Rail, you must first complete the following prerequisites:
Do the Trailblaze Mission called "The Stars are Cold Toys"
While doing the Trailblaze Mission above, you'll encounter the first Cavern of Corrosion in the Corridor of Fading Echoes. Approaching it will prompt text messages with Welt, unlocking the Cavern of Corrosion section in the Interastral Peace Guide.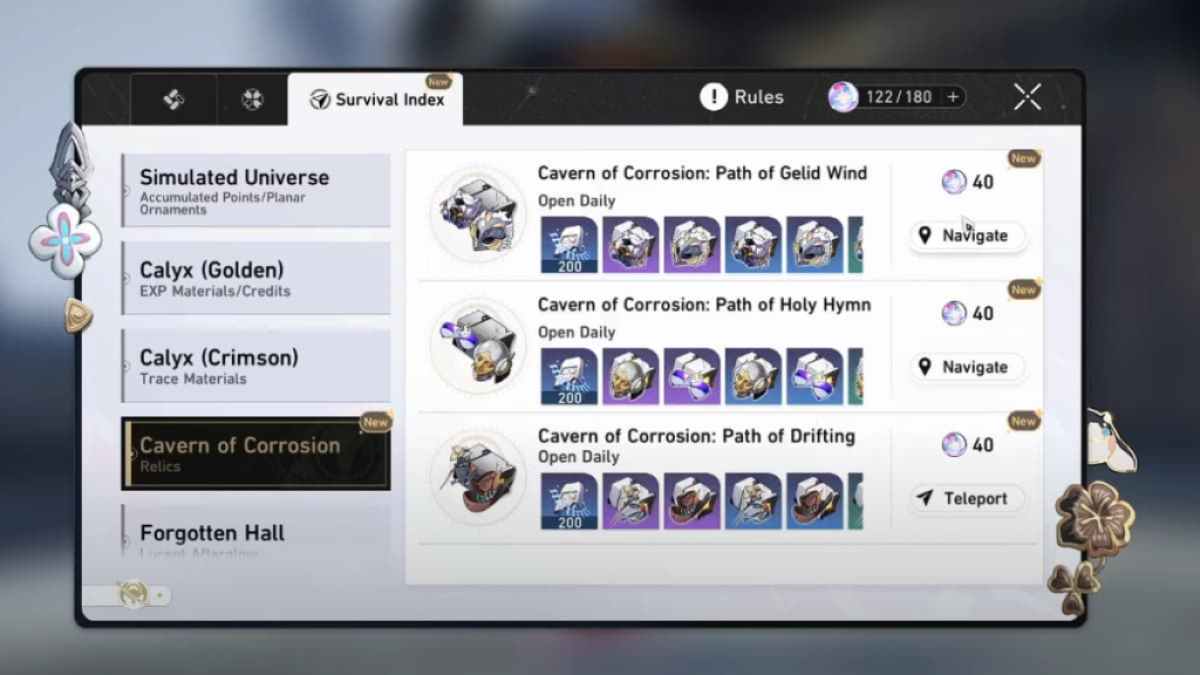 Caverns of Corrosion are domains where you can farm Relics. You can find them in the following areas:
Cavern of Corrosion
Location
Relic Sets
Path of Gelid Wind
Storage Zone, Herta Space Station
Hunter of Glacial Forest
Eagle of Twilight Line
Path of Jabbing Punch
Everwinter Hill, Jarilo-VI
Champion of Streetwise Boxing
Thief of Shooting Meteor
Path of Drifting
Corridor of Fading Echoes, Jarilo-VI
Passerby of Wandering Cloud
Musketeer of Wild Wheat
Path of Holy Hymn
Great Mine, Jarilo-VI
Knight of Purity Palace
Band of Sizzling Thunder
Path of Conflagration
Stagazer Navalia, Xianzhou Luofu
Firesmith of Lava-Forging
Wastelander of Banditry Desert
Path of Providence
Cloudford, Xianzhou Luofu
Guard of Wuthering Snow
Genius of Brilliant Stars
It costs 40 Trailblaze Power to challenge a Cavern of Corrosion, and you'll get random Relics from the specified sets above as rewards.
For more information on challenging the Cavern of Corrosion, check out our Honkai Star Rail Cavern of Corrosion Guides, All Locations, Team Comps, and more! here on Pro Game Guides.