It's prediction time! As the 2023 NFL season gets underway, the Sky Sports NFL team make their picks – from their MVP favourites to their Super Bowl matchups. 
MVP
Joe Burrow, QB, Cincinnati Bengals. My MVP for this season will be Joe Burrow of the Cincinnati Bengals. I know there are some concerns over his calf injury this summer but I think he's going to prove once again that he's elite and one of the very best in the game. He had the Bengals five minutes from winning the Super Bowl against the Rams, he had them one drive away from going to a second straight Super Bowl before falling to the Chiefs, so I think he's going to remind us how special he is. NEIL REYNOLDS
Lamar Jackson, QB, Baltimore Ravens. He's just signed his massive contract, there are no excuses anymore, he's loaded with weapons right now. It's on him to lose it essentially, so for me, I think he could do it. I'm excited to see him back in full action, he's going to be wild. PHOEBE SCHECTER
Patrick Mahomes, QB, Kansas City Chiefs. I love Joe Burrow, I'm a Joe Burrow fan, I want him to win it all. But I think the way that Kansas City are going to have to play, Patrick Mahomes will have to have games where he's going to light it up. I think he has some games where he'll throw up crazy numbers. This is part of his story, we love the fact he's dominant. When we knew Tom Brady was retiring, everybody wanted to know 'who's that next guy?' and I think this year, if he can pull off another MVP, here we go. JASON BELL
Jalen Hurts, QB, Philadelphia Eagles. I'm going to go with a rising superstar in Jalen Hurts, because he's so dangerous in so many ways. Mahomes is the reigning No 1 but Hurts is going to have an outstanding year if he can stay healthy and with that supporting cast he's going to hang up huge numbers. JEFF REINEBOLD
Joe Burrow, QB, Cincinnati Bengals. He has it all. He has been down, a lot, without ever looking out. Joe Burrow has reignited the Bengals franchise and taken his team within minutes of a Super Bowl ring. The poise, the playmaking ability, the toughness, the accuracy, the anticipation, the improvisation of an arguably top-two quarterback shines once again in another scintillating year for the former LSU national champion. CAM HOGWOOD
Patrick Mahomes, QB, Kansas City Chiefs. The script says Aaron Rodgers moves to New York, plays lights out, gets them deep into the playoffs and picks up the MVP award come February. However, my head says only an absolute fool bets against Patrick Mahomes at this point. HANNAH WILKES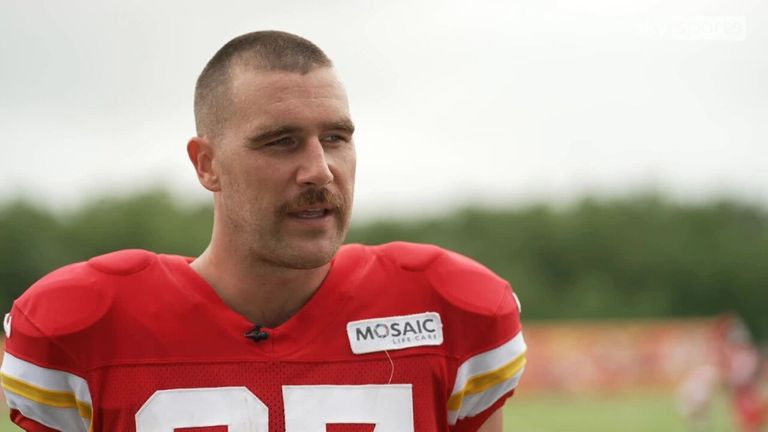 Kansas City Chiefs' Travis Kelce says there is a family mentality and togetherness within the squad and he is ready for any pass that comes from the 'unstoppable' Patrick Mahomes.
Surprise package
I'm going to go Tennessee Titans. I think everybody is writing off Mike Vrabel's team, that's the trendy thing to do. But he always turns out tough, competitive, well-drilled squads and I think Ryan Tannehill is not quite done yet and neither is Derrick Henry. NEIL REYNOLDS
The Atlanta Falcons running backs. They have Bijan Robinson, Tyler Allgeier and Cordarrelle Patterson. I just feel like those three are going to be running all over teams for an entire season. Even they have nothing else for the Falcons, those three, which is ironic with everything going on with the running backs right now, will be game-changers. PHOEBE SCHECTER
I'm going to go with the Green Bay Packers. I think they will surprise people. I think they've got a really good roster, the way it's constructed. Remember that Jordan Love, even though he's just coming in as starter, he knows this system, he's been around it for years so this isn't just some rookie coming in or a guy getting a new coordinator. He's been around enough to master this system and I think they've got a balanced enough team, he could have success and they could have success. JASON BELL
Live NFL
September 10, 2023, 4:30pm
Live on
I think one team people haven't talked about as much as I think they should is the Pittsburgh Steelers. You talk about a team in a really tough division where every week you're facing good people. But I think Kenny Pickett has made a quantum leap going into year two, he was selected as a team captain in only his second year and it took Big Ben five years to be selected as captain. It tells you about his development. I like their receiver room, Najee Harris is an incredible talent, and then they went out and got Isaac Seumalo at guard. And they never rebuild on defense, they lost reload and have pass rushers from everywhere. JEFF REINEBOLD
There's something about the New Orleans Saints offense that has my attention. In Chris Olave they have a star in the making at wide receiver for Derek Carr to throw to, and who knows what version Michael Thomas will be back? Alvin Kamara, albeit suspended to start the season, remains one of the most disruptive dual-threat running backs in the league, and Juwan Johnson is creating some buzz at tight end. Pete Carmichael's unit could put some points up on teams. And that defense still has the talent to be there or thereabouts, even if a playoff run might be out of the picture. CAM HOGWOOD
It might be a stretch to pick a team that went 10-7 in 2022 as a "surprise package" but that's what I'm doing with the Baltimore Ravens. With a new OC in Todd Monken, Lamar having got PAID, and the team finally investing (and perhaps overpaying a certain OBJ) at the wide receiver position, I think we're going to be surprised by what we see from the Ravens offensively this term. I think we'll see them getting back to building quick leads, be faster-paced generally and less reliant on the legs of Jackson. HANNAH WILKES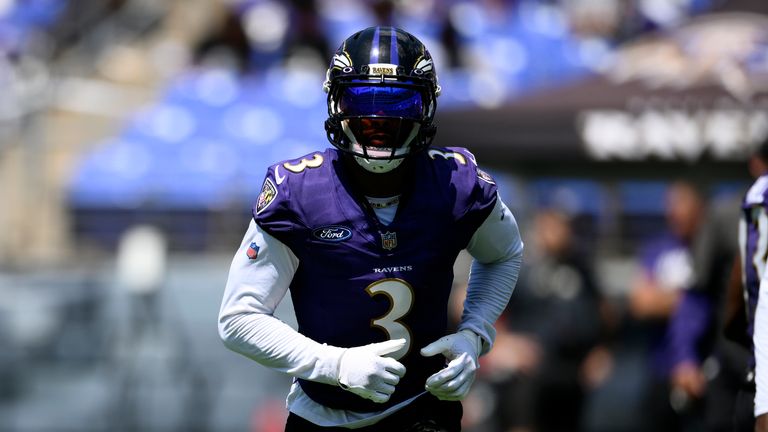 Odell Beckham Jr says he is 'feeling free for the first time in a while' as he looks ahead to beginning the new NFL season as a Baltimore Raven.
The head coach under the most pressure is…
Mike McCarthy, head coach, Dallas Cowboys. Even though 27 seasons have passed since the Cowboys last won a Super Bowl, that will always be the expectation while Jerry Jones is the team owner. McCarthy has taken control of the offense so that side of the ball cannot fail in 2023. Dallas have recorded back-to-back 12-win regular seasons and then flamed out in the playoffs, losing to San Francisco on both occasions. If another tame postseason exit beckons, McCarthy could be made to pay with his job. NEIL REYNOLDS
Kevin Stefanski, head coach, Cleveland Browns. For me, I think it's Kevin Stefanski with the Browns. They brought in Deshaun Watson on this massive contract, he only played a few games after suspension. You think back to how he went from winning Coach of the Year to having one of the worst teams. There's going to be a higher expectation on the Browns, especially when you have Watson the whole year. PHOEBE SCHECTER
Ron Rivera, head coach, Washington Commanders. You always want to go where new ownership is, and that's Washington. Ron Rivera in Washington, new ownership, Eric Bieniemy in as coordinator, new quarterback, things have to go right. Because who is married in this situation? Nobody really picked each other, so that puts a lot of pressure on you as a coach. I don't want to say he's in the hot seat but he's got a lot of eyeballs on him because the new owner wants to know what he has going on. JASON BELL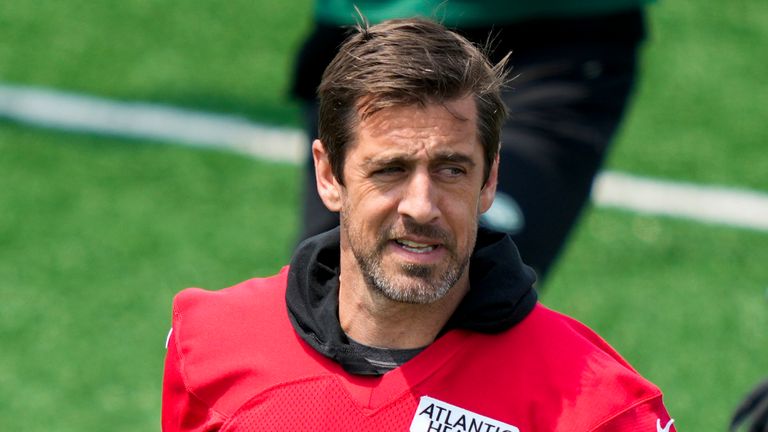 New York Jets head coach Robert Saleh says the signing of Aaron Rodgers gives the Jets 'hope'.
Robert Saleh, head coach, New York Jets. All 32 coaches! From a coaching standpoint, I think it's Robert Saleh because the expectation level is so incredibly high right now with the fact that on paper there's no reason that line-up can't be a Super Bowl team. You're under an incredible microscope anyway in New York. He's going to earn his dollars this year. JEFF REINEBOLD
Brandon Staley, head coach, Los Angeles Chargers. He arrived as the defensive whizz that cultivated one of the league's most potent units with the Rams, but Brandon Staley has struggled to follow suit since moving over to the Chargers. Couple that with the need to maximise Justin Herbert and his ludicrous arm talent while competing in a loaded AFC and you have a whole lot of pressure. CAM HOGWOOD
Sean McDermott, head coach, Buffalo Bills. Not in terms of his job being at risk, but in terms of this Bills team being 100 per cent in its Championship window and needing to convert that to a ring. The Bills have ranked No 1 in points per game scored and points per game allowed the last three years, but haven't got to a Super Bowl and have gone 4-3 in the playoffs. I feel like a lot of off-field factors played a part last year, but the pressure is on for them to be in Vegas come February. HANNAH WILKES
Rookie of the Year
Anthony Richardson, QB, Indianapolis Colts. Even in preseason, briefly we've seen flashes of the arm potential, like a young Josh Allen, like a young Cam Newton, those are the comparisons being made. I think he'll have a good year leading the Indianapolis Colts and they'll come out of this season believing they have their long-term answer, which they haven't had in quite a while at quarterback. NEIL REYNOLDS
Will Anderson Jr, EDGE, Houston Texans. His pass-rushing skills, the Texans traded up for him and I really liked him when we went out to the Draft to speak to him. Just seeing his size and physicality as well, he's also got the right mindset. You like to see somebody who can switch it on and off, where you can have a conversation they're fine but then when you switch it on you've got that intensity. I think he's got so much potential. We saw this past season Aidan Hutchinson have a massive impact, I think Will Anderson will be trying to beat that. PHOEBE SCHECTER
Bijan Robinson, RB, Atlanta Falcons. I think Atlanta will be a good team, I like their system, I like their head coach and I think Bijan Robinson over there, how they're going to use him, he has all the skillset. Their head coach is going to find a way to get him the ball anywhere on the field. He's going to be able to have an impact in the passing game and the running game, and those kind of numbers are what's going to put him in the conversation to be Rookie of the Year. JASON BELL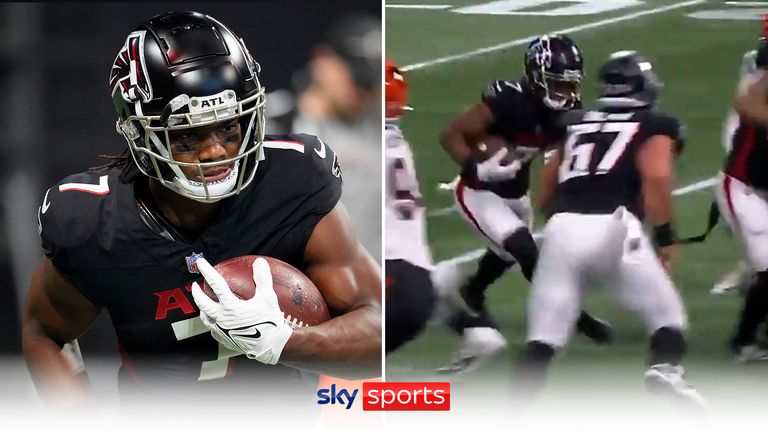 Atlanta Falcons rookie running back Bijan Robinson's first preseason carry is a chain-moving 12-yard burst.
Bijan Robinson, RB, Atlanta Falcons. My initial thought was Bijan Robinson because you know Arthur Smith is committed to the run game and he's a really really talented player. I would say he's the first that would hop to my mind, but if you gave me a dark horse I would say Zay Flowers, he's had an amazing training camp and in that new offense he'll be a guy people pay attention to. JEFF REINEBOLD
Anthony Richardson, QB, Indianapolis Colts. I think the Colts have nabbed themselves a superstar. The explosiveness and athleticism of Anthony Richardson will dazzle in Shane Steichen's offense, even if his first season proves to be a losing one. He will leave defenders stranded with his ability outside the pocket, piece together a handsome sizzle reel of splash play throws and reassure the brass in Indianapolis that they have their answer. CAM HOGWOOD
Bijan Robinson, RB, Atlanta Falcons. I really like the look of Robinson and have been desperately trying to land him (to no avail) in all my Fantasy drafts. Despite terrible quarterback play the Falcons were competitive in 2022, and that all stemmed from the run game, which is boosted hugely by a player of his talent. HANNAH WILKES
One bold prediction
Bill Belichick gets fired within two days of the conclusion of the regular season. I think New England will struggle to keep pace in the AFC East, there have already been whispers Robert Kraft is not always going to stick with Bill Belichick, winning is the priority in New England. I think his reign comes to an end at the end of this season. NEIL REYNOLDS
I guess I will say that the Minnesota Vikings will finish the season 7-10. PHOEBE SCHECTER
My big bold prediction, although it's not that bold. It will make my girl Phoebe upset, I wanted to hold this back but I'll give it to you – the Bills won't make the playoffs. They've been able to run through that decision, but things are changing recently. Let's look at this division: Miami have a better roster, one of the best rosters in the NFL; the Jets have their defense and are now with Aaron Rodgers. How are you going to beat them teams, especially twice? Then you know Bill Belichick will come with a game-plan. All these defenses have good coordinators and depth, and they're going to make it hard on the Bills. Josh Allen is going to need to be Superman. I think they're number three in their division. JASON BELL
My bold prediction is Tua Tagovailoa will navigate the entire season without going on injured reserve, and I really hope it's the case because his health will be a real key for Miami. JEFF REINEBOLD
The Washington Commanders will have found their man in Sam Howell. Maybe that's not so bold. But Howell is being overlooked, and I think he'll impress in an offense not short of talent, or an innovative offensive mind in Eric Bieniemy. CAM HOGWOOD
Garrett Wilson will lead the NFL in receiving yards! HANNAH WILKES
Shock team to miss the playoffs
I'm going to go with the Miami Dolphins. I think it's a very competitive division, their offense is super exciting but relies on Tua Tagovailoa being there at quarterback – can we rely on that? Tua missed more than five games last year with multiple concussions, that's an ongoing concern. So I think there are question marks about a team that could be, on paper, very very talented, but I have some concerns. NEIL REYNOLDS
I will say the Pittsburgh Steelers. They've kind of skimmed through the past few years. I love Mike Tomlin, I think he's awesome but that division is getting more competitive. I think it might be too much for the Steelers this year. PHOEBE SCHECTER
I doubled up for you! I agree with Phoebe on the Minnesota Vikings. I totally agree. You know who else might miss out? A team everybody is talking about, a team everybody wants to see do well, they love the coach, the story, the city, the grit, their defensive coordinator is the guy who taught me how to play the corner position in the NFL in Aaron Glenn – and that of course is the Detroit Lions. Everybody is talking about them, they've got a lot of fanfare right now, but it's tough. It's going to be hard in the NFC for the Lions. JASON BELL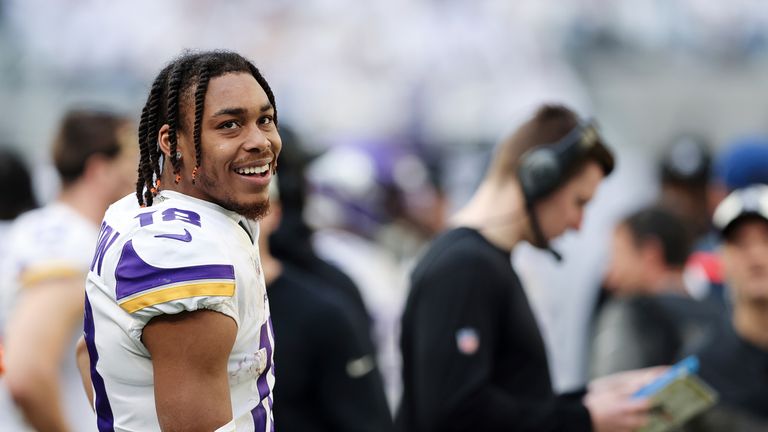 Minnesota Vikings wide receiver Justin Jefferson explains why he loves to put a show on for the fans and how high expectations come as added motivation.
I think there are two teams that are potentially shockers. I think the Buffalo Bills, everybody has anointed them as a Super Bowl contender, I think they are but they also had a not great training camp and have a huge question at middle linebacker. That's a team that has to perform better on defense and they're in a division where it will be tough every week. I think the same can be said for the Cincinnati Bengals, I think that's another team that because the Steelers, Ravens and Browns will be better you're going to have to win all your games in the division at home and split on the road to get in. It's because of the toughness of that schedule. JEFF REINEBOLD
I'm leaning towards the Minnesota Vikings. Brian Flores will make a difference to the defense that capitulated against the New York Giants in the playoffs, but I'm still not convinced by that pass rush. The pressure is on for Kirk Cousins in a contract year, with a rejuvenated Lions lurking and Jordan Love's Packers teasing surprise package potential. CAM HOGWOOD
This is really tough. The AFC is stacked, the NFC is wide open….I can see a bit of regression from the Eagles this year with an almighty Super Bowl hangover and losing some key coaches. Maybe. I hope I'm wrong! HANNAH WILKES
Super Bowl matchup
San Francisco 49ers to beat the Cincinnati Bengals. I think Joe Burrow will lead the Cincinnati Bengals to a second Super Bowl in three seasons and it will be against the San Francisco 49ers. Every Bengals Super Bowl they have played in has been against the 49ers and I think that will be the case this year. San Francisco have been very very close, they possibly have the best roster in the NFL, I think Brock Purdy continues to be a steady hand on offense, the defense is the real deal. I'm going the 49ers to complete the Super Bowl hat-trick over the Bengals. NEIL REYNOLDS
Buffalo Bills to beat the San Francisco 49ers. The way they managed it last year and got as far as they did, the 49ers are an immense team. Kyle Shanahan has done a great job of changing how people view personnel groupings, I'm excited to see the other fun things he'll do. But I'm going Bills! PHOEBE SCHECTER
Kansas City Chiefs to beat the San Francisco 49ers. That 49ers defense is going to wreck shop all year, Brock Purdy will have his ups and downs, Kyle Shanahan will find a way, they've got some serious weapons and offensive fire power. They'll get to the Super Bowl against the Chiefs, and like I said, there's a story to be told. Who will be the team who doubles up and goes back-to-back? Who is going to be the next Tom Brady? Who can catch him? Patrick Mahomes will get out there under center and find a way to pull it off. JASON BELL
Philadelphia Eagles to beat San Francisco 49ers. I think there's a strong possibility we see the same two teams, I think both have done a good job of re-tooling this offseason. If that happens, I think the Eagles are better than they are and they take it. JEFF REINEBOLD
Cincinnati Bengals to beat the San Francisco 49ers. I backed Joe Burrow to win MVP and now I'm backing him to steer the Bengals to a Super Bowl ring. If Zac Taylor gets it right, if Lou Anarumo continues to work his magic and Burrow goes unscathed, the Bengals are a match for anybody. The 49ers rip through the NFC, only to come up shy. CAM HOGWOOD
Kansas City Chiefs to beat the San Francisco 49ers. I mean really, at this point, who's ever betting against Mahomes!? HANNAH WILKES
The key to surviving the NFL season as a UK fan is…
Have an active Sunday! Take the dog for a walk, do your chores, get to the gym, play with the kids in the park. Whatever you need to do, have an active Sunday because then you can sit on the sofa from 6pm guilt-free and watch NFL all night long. NEIL REYNOLDS
Make sure you have a plethora of snacks, always drinking water with your coffee. Nachos, but you have to have all the trimmings: guacamole, sour cream, salsa, jalapenos, and you have to eat out of a sombrero. PHOEBE SCHECTER
Have your set-up right, be a creature of habit with your set-up of how you view the games, whether it's with friends or by yourself in the quiet. The second thing is – plan your Monday out well! Always have a plan, let everybody know you're an NFL fan, you're locked in so 'give me a break on Monday because I need it! J-Bell is going to be spewing so much energy it's going to wear me out!'. It's like that every week – have your game plan." JASON BELL
The prescription I will give as a football doctor, is make sure you watch a serious dose of Sky Sports NFL every week – and call me in the morning. JEFF REINEBOLD
It might be an obscure one, but map out your route to bed with planning and precision. It's 5am on a Monday morning and you are just about dragging yourself off the sofa – your job is to avoid waking up the non-NFL fan members of the household who might well hold it against you once you awake. Before settling in for your second game of the night, ensure noisy packets of midnight snacks are already out of the cupboard, clear the path of squeaky dog toys and open creaky doors enough for you to fit through in the dark without stirring family members. CAM HOGWOOD
A solid supply of coffee and a flexible boss! HANNAH WILKES
Don't miss a second of the 2023 NFL season with Sky Sports NFL – watch the Kansas City Chiefs being their Super Bowl title defence against the Detroit Lions in the early hours of Friday September 8 live on Sky.