Image via Roblox Simple Basketball
If you want to shoot some hoops while playing Roblox, Simple Basketball is the game for you! You have several different types of court to play on, depending on whether you want to join a four-versus-four match or just practice on the local city courts. Tour the courts on your board when you need a break and beat your friends to the top of the streak and reputation leaderboards.  
Simple Basketball codes reward you with free coins, which are the main currency of the game. Coins are used to purchase items such as animations, mascots, and ball skins, as well as upgrades to your skills such as passing, shooting, dunking, and defending. If you love Roblox basketball experiences, you should also check out Basketball Simulator.
All Simple Basketball Codes List
Simple Basketball Codes (Working)
These are all the working Simple Basketball codes.
GOALEFFECTS—Redeem for 8,500 Coins
BALLINTHASUMMER23—Redeem for 8,000 Coins
3MVISITS—Redeem for 7,500 Coins
6KFAVES—Redeem for 5,000 Coins
7KFAVES—Redeem for 5,000 Coins
Simple Basketball Codes (Expired)
These are expired codes for Simple Basketball.
PARKUPDATE—This code has expired.
1MVISITS—This code has expired.
2KFAVES—This code has expired.
400VISITS—This code has expired.
Related: RB World 4 Codes
How to redeem codes in Simple Basketball
Follow the instructions below to redeem codes in Simple Basketball.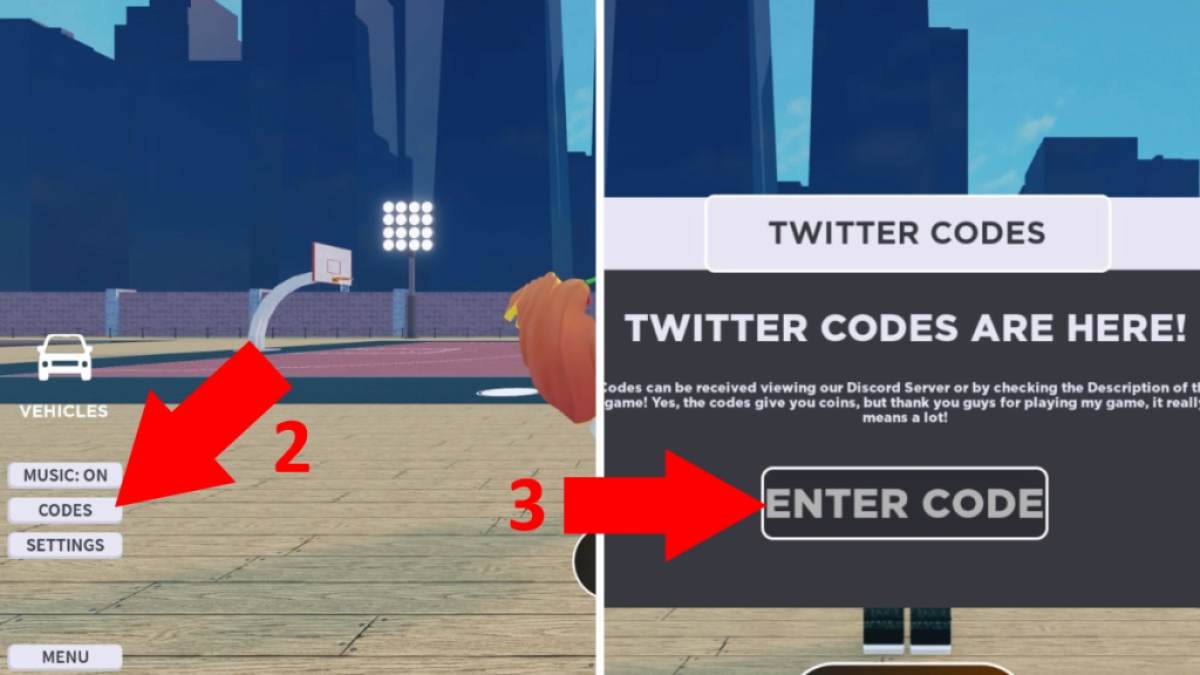 Launch Simple Basketball on Roblox and select MyPark.
Press the Codes button on the left of the screen.
In the text box saying ENTER CODE, do so exactly as it appears in the list above.
Press Enter on your keyboard to claim your reward!
How can you get more Simple Basketball codes?
If you want to find more Simple Basketball codes or get the latest on updates to the game, a good place to begin is by following @kvrey on Roblox and joining the Obelus Creations Roblox Group. Outside of Roblox, you can become a member of the official Simple Basketball Discord Server to find links to YouTube videos, code info, events, and more!
Why are my Simple Basketball codes not working?
Simple Basketball codes need to be exact if they are going to work, much like most Roblox codes. If a code comes up as invalid, make sure it has been entered correctly. The easiest way to do that is to cut and paste it directly from Pro Game Guides, which will make sure you avoid any typos. If that doesn't fix it the code has probably expired. This means it has been canceled by the developers, so we can't help. Let us know and we'll update the guide. Then check back in with us soon for more codes!  
How do annual codes work in Simple Basketball?
Simple Basketball has a codes system where certain codes are repeated throughout the year, as well as the ones you'll find above that are added for visits and favorites milestones, along with updates. These should always be available between the following dates. All you need to do is replace the ?? in the codes below with the last two digits of the year (such as 23 for 2023):
NEWYEAR??—January 1 to January 31
SPRINGSZN??—March 20 to April 21
BALLINTHASUMMER??—April 22 to July 23
BALLOWEEN??—August 28 to November 1
THANKSFORGIVINGMECOINS??—November 24 to 27
MERRYTEEMAS??—December 24 to 30
What is Simple Basketball?
Simple Basketball is a basketball simulator experience in which you can play on a variety of courts versus your friends or in pick-up games. When you're not playing in a match, you can cruise the courts on a variety of vehicles. There are also lots of customization options, including being able to upgrade your skills with the coins you get from competing in matches.
If you're looking for codes for other games, we have a ton of them in our Roblox Game Codes post! You can also get a bunch of free stuff via our Roblox Promo Codes page. And in the meantime, take a look at the latest news to stay up-to-date on all things entertainment.