Image via Roblox Titan Warfare
Are you a fan of the popular anime and manga Attack on Titan (AOT)? Are you looking to play a new, competitive Roblox experience that truly engulfs you into the world of AOT? Then Titan Warfare is the experience for you! This round-based, PvP experience throws players into a war between Marleyans and Eldians and leaves them to take down everyone who stands in their way through fighting, Titan shifting, and more. So how do you get a head start in this experience? With our list of Titan Warfare codes of course!
Each Titan Warfare code listed below unlocks a unique in-game bonus—from Cash to Keys, Spins to mystery rewards, these codes have it all! If you're looking for even more freebies, be sure to check back with this article regularly—we update this list as soon as new codes come out! If you find a code in the Working Codes section that seems expired, please let us know so we can remove it as soon as possible. Keep in mind, also, that you'll need to enter each code exactly as it's written or the experience won't accept it!
All Titan Warfare Codes List
Updated May 3, 2023

Added two new codes!
Titan Warfare Codes (Working)
Here's a look at all the working Titan Warfare codes.
TRUE_FREEDOM—Redeem for 10 Keys (New)
BREAK_FREEEEEE—Redeem for 5k Cash (New)
MIKASA_SUKASA—Redeem for Cash and Spins
IF_I_LOSE_IT_ALL—Redeem for Cash and Spins
TITAN_WARFARE_IS_AWESOME—Redeem for Cash
S4P3—Redeem for 2.5k Cash
SEASON_4!!!?—Redeem for Free Rewards
ILOVEDBD—Redeem for Free Rewards
CONN1E—Redeem for Free Rewards
TITANBATTLE—Redeem for Free Rewards
POTATO_LOVER—Redeem for Free Rewards
AWESOME_WARFARE—Redeem for Free Rewards
HANG3—Redeem for Free Rewards
YEL3NA—Redeem for Free Rewards
K3NNY—Redeem for Free Rewards
ILOVETITANWARFARE—Redeem for Free Rewards
CALCTUTOR—Redeem for Free Rewards
300K_LIKES—Redeem for Cash, Spins, and Keys
ANN1E—Redeem for Cash, Spins, and Keys
MOB1LE_PVP—Redeem for 2k Cash and 5 Keys
SEASON_3!!—Redeem for Free Rewards
SURV1VAL—Redeem for 1k Cash
SEASON_1—Redeem for Free Rewards
CASH_MONEY123—Redeem for Free Rewards
Inactive Titan Warfare Codes (Expired)
These codes are no longer valid and cannot be redeemed!
WEVIWACKMAN
B.E.A.S.T
XBOXGAMING—Redeem for Cash and Keys
45KLIKES—Redeem for Cash and Keys
50KLIKESTHANKYOU—Redeem for Cash and Keys
5MILVISITS—Redeem for 10 Keys, $1K Cash
MAGATH123—Redeem for $500 Cash
If you're looking for more Roblox content to browse while you wait for new codes, check out some of our other articles on similar experiences like Best skills to choose in Roblox Titanage, How to prestige in Roblox Titanage, or our codes lists on Roblox Attack on Titan: Life and Roblox Untitled Attack on Titan!
How to Redeem Titan Warfare Codes
How to enter codes in Titan Warfare
It's easy to redeem codes for free rewards in Titan Warfare. To do so, simply follow the instructions below.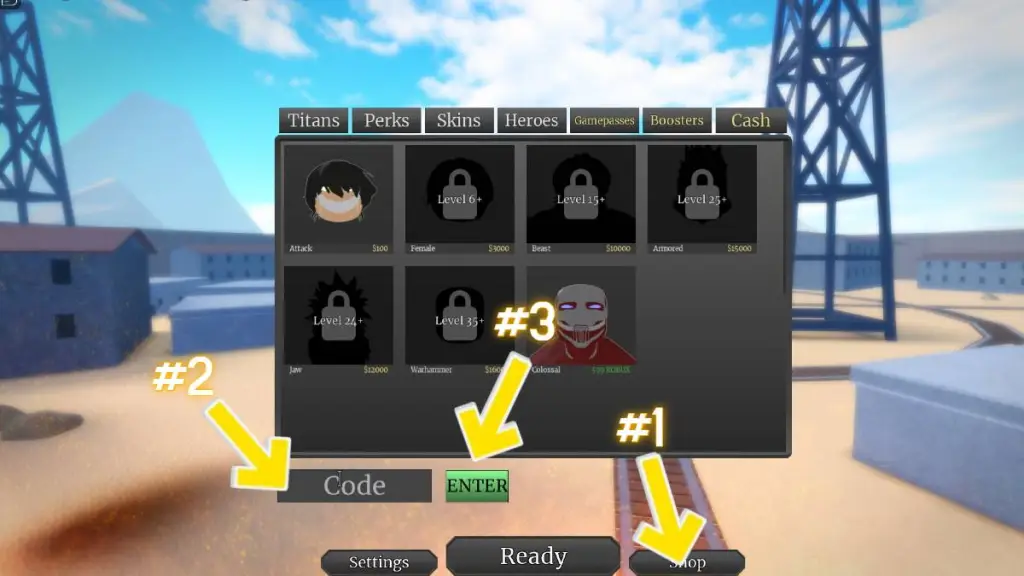 In the game, press the Shop button on the bottom of the screen.
In the 'Code' box, enter the code exactly as it appears in the list above.
Press the green 'Enter' button to claim your reward!
How do I get more Titan Warfare codes?
Updates for Titan Warfare aren't super common, meaning codes aren't regularly released anytime or any place, but that doesn't mean that we don't cover them! The best ways to stay up to date on Titan Warfare codes are checking back with this article regularly, following the official Titan Warfare Twitter account, joining the Titan Warfare Discord server, and joining the Titan Warfare Roblox group. Users who join this group, the incredible ninja people, also receive 15% bonus Cash and XP inside of Titan Warfare!
Why aren't my codes working?
Not all Roblox codes are active for the same amount of time, meaning some expire exceptionally quickly and may even become inactive after 24 hours or less! If you attempt to enter a code and it says Code Expired, that code is no longer active and, unfortunately, can no longer be redeemed. There's nothing that you can do to fix this issue, the code is simply unobtainable. If you attempt to type in a code and it says Invalid Code, however, this means that you've likely mistyped the code or neglected to use the correct capitalization. If this happens, try to retype and re-enter the code once more, being sure to copy it exactly as it's written!
What is Titan Warfare?
Titan Warfare, as mentioned in the first graph of this article, is a massive, round-based PvP experience that invites players to join the Marleyans and Eldians war and take down everyone in their way. There are multiple game modes to try, some more competitive and some more casual, along with various maps to explore and use to your advantage. As you level up you can unlock new titans, heroes, perks and more!
If you're looking for codes for other games, we have a ton of them in our Roblox Game Codes post! You can also get a bunch of free stuff via our Roblox Promo Codes page.